This newsletter from Bob Jones University's president Steve Pettit is intended to inform BJU's alumni and friends of student and faculty achievements and campus programs and activities. Communication regarding this newsletter may be addressed to president@bju.edu.
Message from the President
On Jan. 31 I had the privilege of announcing the launch of BJU's new School of Health Professions which will begin operating with the new academic year in August. It is another strategic step in the University's continual enhancement and expansion of its diverse academic offerings.
Market demand for health care professionals is strong, and key national and regional indicators project it will continue to be strong in coming decades. Student interest is also high. In the last five years alone—with quality premed and nursing programs and the addition of new programs in health sciences and exercise and sport science—our enrollment in health-related programs has grown over 21 percent.
We have exceptionally strong health-related programs and high caliber faculty already in place, creating a solid foundation on which to further grow our health-related programs—and we're producing graduates with stellar track records. 80 to 100 percent of BJU premed graduates are accepted into medical school within one year of graduation, more than double the national average.
Some score in the 98th to 100th percentiles on the national Medical College Admission Test. Nursing graduates typically outperform national pass rates on their capstone exam.
Initially, we will reposition programs currently in other schools into three divisions in the School of Health Professions: Exercise & Sport Science; Nursing; and Health Sciences which encompasses premed/predent, communication disorders, and a general concentration along with concentrations in pre-physician assistant, pre-physical therapy, pre-nutrition, pre-pharmacy, public/global health and health care administration. Over 400 students currently enrolled in these programs will transition to the new school this fall.
In the next several years, we plan to add additional programs. We also plan to co-locate health-related programs to emphasize inter-professional collaboration and create a learning environment similar to the collaborative environment in today's health care workplace.
Dr. Jessica Minor named School of Health Professions interim dean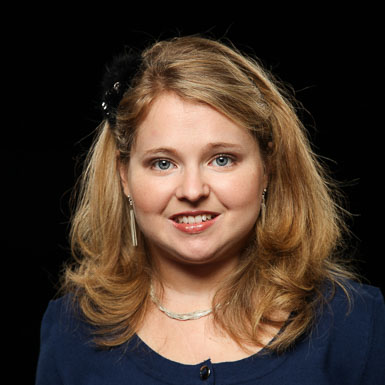 Dr. Jessica Minor of the Bob Jones University biology faculty has been named interim dean of BJU's newly announced School of Health Professions. Minor joined the BJU health sciences faculty in 2014 and has played an integral role in academic program development, including leading the task force that created the prospectus for the School of Health Professions and developing the seven concentrations in the Health Sciences major.
Minor holds a BS in biology (2007) from BJU, an MA in bioethics (2008) from Trinity International University in Deerfield, Illinois, and a PhD in healthcare ethics (2013) from Duquense University in Pittsburgh, Pennsylvania. In addition she has a certificate in global health and is currently working on an MS in patient safety leadership from the University of Illinois in Chicago.
Minor currently serves as a member of the Bon Secours St. Francis Health System ethics committee and previously served on the University of Connecticut Health Center ethics committee. She was an adjunct faculty member for health, law and ethics at the University of Connecticut Medical School in Farmington, Connecticut, and affiliate faculty for Regis University in Denver, Colorado.
BJU is aggressively recruiting a dean for the new school; qualifications are detailed on bju.careers.
University assembles School of Health Professions advisory board
The steering committee—headed by Dr. Gary Weier, provost and executive vice president for academic affairs—charged with launching the School of Health Professions has assembled a high caliber advisory board with experience in a broad range of health-related fields to provide advice and counsel and supplement the experience of our faculty as we further develop and implement the new school.
Physical therapist Roger Bachour is founder and president of Accelerated Physical Therapy in Greenville, South Carolina. He has treated nearly every orthopedic musculoskeletal injury, has perfected the fabrication of custom orthotics, lectures on foot and ankle biometrics at local universities, and recommends exercises to promote efficiency and safety in golfers. Degrees: BS, health and physical education, BJU; PT, Medical University of South Carolina.
Colonel Thomas Bacon is the former commander of the 39th Medical Group in Turkey where he led medical services for 5,000 active duty military members and their dependents, civilians and contractors. He held leadership positions in pharmacy at three bases in the U.S. and UK, served as pharmaceutical advisor at the Pentagon and commanded medical operations at three U.S. bases. Degrees: BS in biology, BJU; MS, pharmacy practice, University of South Carolina; PhD, pharmacy, Mercer University.
Lt. Col. in the U.S. Air Force Medical Corps, Dr. Albert Bonnema is a physician epidemiologist at the Population Health Support Division, Brooks City-Base, Texas, where he focuses on chronic disease management, promotion of clinical preventive services, and effective and efficient clinical practices. His Air Force experience includes practicing physician, practice manager and hospital governance. Degrees: BS, science education, BJU; MPH, University of Michigan; MD, Medical University of South Carolina.
Consultant Dr. Martin Clark served as president, Kettering Medical Center Foundation, leading fund development for a local network of seven acute care hospitals, a behavioral medicine hospital, an allied medical college and over 80 clinics. He held various positions at Cedarville University for 30 years, 20 as vice president of development where he was involved in every aspect of university leadership and management and led fund development of over $100 million. Degrees: BA, MA, BJU; EdD, Virginia Polytechnic Institute and State University.
Dr. Gary Cobb is a practicing surgeon with privileges at three Ohio medical facilities. For 15 years, he was clinical instructor of surgery at The Ohio State University. At two hospitals he has served as chairman, Department of Surgery; chairman, Operating Room Committee; and chairman, Surgical Governance Committee. Currently he serves on the American College of Surgeons Committee on Applications and the BJU Board of Trustees. Degrees: BS, premed, BJU; MS, biological sciences, Wright State University; MD, The Ohio State University.
Cone Health executive director of strategic management, Karin Henderson leads strategic initiatives for a six-hospital health system in North Carolina, including clinical reconfiguration, labor productivity, and oversight of merger/partnership activities and leads teams to reinvent health care utilizing lean concepts and resource optimization. She has served as executive director of organizational integration and director of nursing and patient care services. Degrees: MSN, GNP from University of North Carolina at Greensboro.
Licensed dietician and registered dietician, Dr. Deborah Hutcheon is a clinical nutritional specialist and holds adjunct teaching positions at Rutgers University and the University of New England. She has served as dietetics program director at Clemson University and nutrition instructor at BJU. Degrees: BS, foods and nutrition, BJU; post-bachelor certificate in dietetics, Wayne State University; MS, nutrition, Eastern Michigan University; DCN, clinical nutrition, Rutgers University.
President of Bristol Regional Medical Center in Tennessee, Greg Neal has held executive posts throughout Wellmont Health System, most recently, president of Wellmont's Community Division, comprised of four hospitals in Tennessee and Virginia. He has held executive-level positions at Holston Valley Medical Center, the Wellmont corporate office, and Bristol Regional Medical Center. He is board-certified in healthcare administration and a fellow of the American College of Healthcare Executives.
BJU Board of Trustee member Dr. Brian Priest is chief, Division of Cardiac Surgery at Community Health Network, Indianapolis, Indiana. He held a similar position in West Chester, Pennsylvania, founded Bucks County Cardiothoracic Surgeons, and served as staff surgeon at a Pennsylvania hospital. Other appointments include chairman, The Cardiovascular Institute, and chief, Division of Cardiac Surgery, both in Pennsylvania and chief, Division of Cardiac Surgery, in Camden, New Jersey. Degrees: BS, chemistry, BJU; MD, UMDNJ—New Jersey Medical School.
Brian Romig is the director of Navigant in Dallas, Texas, where he developed quality improvement strategies that reduced readmissions and improved safety. He served as the president of Tief Ray, LLC, an independent consultant to health systems and suppliers, vice president of Novation/Vizient, Inc., corporate director of Adventist Health System, and vice president of clinical and support services for Cone Health. Degrees: BS in pharmacy, Ferris State University; MBA, Central Michigan University.
CIO and Chief Consultant Officer at the IT consulting firm iMethods, Sulaiman H. Sulaiman is a Health IT leader experienced in creating and implementing information technology strategies to enable high quality patient care and improved patient experience strategy development, project management, cyber security, transformation and analysis. In a former position, he introduced and led the "One Patient, One Chart" vision to create a single patient-provider platform. Degree: BSME, Cleveland State University.
BJU Board of Trustees member and board certified otolaryngologist Dr. Robert Wilson practices in Greenville, South Carolina, and is affiliated with the Bon Secours St. Francis Health System. Bob is the former chair of the Greenville County Commission for Technical Education. He completed his internship at Vanderbilt University and residencies in plastic surgery at the University of Utah and otolaryngology at Duke University. Degrees: MD from the Medical University of South Carolina.
Dr. Bruce Woodworth is a clinical assistant professor of surgery (urology) at the University of Tennessee. His practice encompasses urologic reconstruction, minimal invasive surgery, stones and general urology. He completed his surgery internship and urology residency at Duke University Medical Center and was professor in the Division of Urology, Department of Surgery at The Ohio State University. He is a member of the BJU Board of Trustees. Degrees: BS, premed, BJU; MD, East Tennessee University.
Living Gallery 2018 scheduled for March 29–31
The University will present its annual Living Gallery March 29–31 in Rodeheaver Auditorium at 4:30 and 7:30 p.m. with an additional program March 31 at 2 p.m.
For over 20 years, BJU's Living Gallery has proclaimed the Gospel through a unique program that combines original drama, special choral and orchestral arrangements, and breathtaking live portrayals of classic works of art to celebrate the story of Christ's birth or resurrection.
Woven through this year's program titled "This Is My Word," is the story of a woman's journey with cancer, her estranged relationship with her son, and her coming to Christ through the influence of her art work on illuminated manuscripts. The performance features instrumental and vocal music, both sacred and classical.
Tickets are $14 and may be purchased at the BJU Programs and Productions box office from noon to 5 p.m., Monday–Friday. Tickets may also be purchased online or by calling (864) 770-1372 during business hours.
BJU hosts second annual Human Genetics Symposium
BJU and the Greenwood Genetic Center will host a human genetics symposium focusing on autism spectrum disorders in Levinson Hall Thursday, March 8, from 6:15 to 9:15 p.m.
"We are honored to host the Human Genetics Symposium for the second year and are excited for the opportunity to connect families with the world of research and professionals in the field of autism spectrum disorders," says Dr. Vincenzo Antignani, assistant professor in BJU's department of biology and Division of Natural Sciences.
The program, titled "Autism Spectrum Disorder: Caring, Exploring, Treating," will include experts from a variety of fields including clinical and diagnostic medicine, molecular genetics, and neurotherapeutics, offering attendees the opportunity to connect with professionals in both medical and scientific fields.
Speakers
Sam Konduros, CEO of the South Carolina Biotechnology Industry Organization and founder of SK Strategies, LLC, addressing the status of the life science industry in South Carolina and its relationship with higher education.
Dr. Giovanni Neri, emeritus professor of medical genetics and director of the Institute of Medical Genetics at the Università Cattolica del S. Cuore, Rome, Italy, addressing "Genetic Bases of Intellectual and Developmental Disabilities."
Dr. Walter Kaufmann, the Ravenel Boykin Curry Chair in Genetic Therapeutics at the Greenwood Genetic Center in Greenwood, South Carolina, speaking on "Autism Spectrum Disorder in Fragile-X Syndrome."
Dr. Luigi Boccuto, assistant research scientist at JC Self Research Institute at the Greenwood Genetic Center and assistant professor at the Clemson University School of Health Research, covering "Genetics and Environmental Aspects of Autism Spectrum Disorder: New Models and New Theories."
Dr. Jeff Twiss, professor of biological sciences at the University of South Carolina and SmartState endowed chair in Childhood Neurotherapeutics, speaking on "Post-transcriptional Mechanisms Impacting Brain Development."
Tickets to the symposium are $18. Dinner is included in the ticket price and will be available from 5:15 to 6:15 p.m. in the Kalmbach Room of the BJU dining common.
President Steve Pettit's speaking schedule
Feb. 28–March 4, Wed.–Sun.
Harvest Baptist Church
Missions Conference
Guam
March 11, Sunday a.m. service
Brown Street Baptist Church
Alton, Ill.
March 11, Sunday p.m. service
Landmark Independent
Baptist Church
Louisville, Ky.
March 18, Sunday a.m. service
Emmanuel Baptist Church
Mechanicsburg, Penn.
March 18, Sunday p.m. service
Puzzletown Road Bible Church
Duncansville, Penn.
April 8, Sunday a.m. service
First Baptist Church of Pavilion
Pavilion, N.Y.
April 8, Sunday p.m. service
Valley Forge Baptist Church
Collegeville, Penn.
April 15, Sunday a.m. service
Lakewood Baptist Church
Pewaukee, Wis.
April 15, Sunday p.m. service
First Baptist Church of West Bend
West Bend, Wis.
April 22, Sunday a.m. service
Beth Eden Baptist Church
Fitchburg, Mass.
April 22, Sunday p.m. service
Community Baptist Church
Groton, Conn.
Dinner with the President
BJU invites prospective students, graduates, former students and people interested in the ministry of BJU to spend an evening with BJU President Steve Pettit as well as university students, faculty and staff representatives. For information and to register, visit bju.edu/dinner or call (864) 242-5100, ext. 4204.
March 13 (Tuesday)
Washington, D.C.
Washington Dulles Airport Marriott
Pizza with Pettit
BJU invites teens to a night of pizza with President Pettit, door prizes and games plus an opportunity to win a $1,000 scholarship. Parents are invited. For information and to register, visit bju.edu/pizza or call (864) 242-5100, ext. 4204.
March 12 (Monday)
Mount Calvary Baptist Church and Christian School
Florence, S.C.
Dr. Sam Horn's speaking schedule
March 4, Sunday a.m. and p.m. services
Red Rocks Baptist Church
Morrison, Colo.
March 5
Pastor's Conference
Red Rocks Baptist Church
Morrison, Colo.
March 8–9
Teach Them Diligently
Nashville, Tenn.
March 11, Sunday a.m. service
Palmetto Baptist Church
Powdersville, S.C.
March 16–18
The Wilds Camp and Conference Center
Hispanic Family Camp
Brevard, N.C.
April 1, Sunday a.m.
Trinity Baptist Church
Concord, N.H.
April 8–9
Abundant Life Baptist Church
Washington, Penn.
April 14
Rooted & Grounded
Bible Baptist Church
Matthews, N.C.
April 15
Sunday a.m. and p.m. services
Bible Baptist Church
Matthews, N.C.
April 22, Sunday a.m. service
Calvary Baptist Church
Midland, Mich.
April 22, Sunday p.m. service
Faith Baptist Church
Warren, Mich.
Opera Association presents Donizetti's Lucia di Lammermoor
The Bob Jones University Opera Association will present Lucia di Lammermoor, a tragic opera in three acts, at 8 p.m. on Tuesday, Feb. 27; Thursday, March 1; and Saturday, March 3 in Rodeheaver Auditorium.
With stage direction by Jeffrey Stegall and music direction by Dr. Michael Moore, the production features four guest artists who will perform the major roles of the opera along with the BJU Symphony Orchestra and student chorus. Composed by Gaetano Donizetti, Lucia di Lammermoor tells the story of a young woman caught in a long-standing feud between her family and the family of the man she secretly loves. The opera is set in the Lammermoor Hills of Scotland in the 17th century.
"This year's production features opulent, period costumes and towering sets inspired by 17th-century Europe," says Stegall, who also designed the production. "The massivescale, prison-like walls are meant to remind the audience of Lucia's miserable plight."
The guest artists for this production include soprano Sarah Coburn as Lucia, tenor Yi Li as Edgardo Di Ravenswood, baritone Mark Walters as Lord Enrico Aston, and bass Kevin Thompson as Raimondo. Several BJU students will also be featured in the production, including sophomore mezzo-soprano Marianne Freeman as Alisa, graduate student tenor Joel Dupont as Normanno, and graduate student tenor Kaidi Xia as Arturo Bucklaw.
Ticket prices are $34–$43 for adults and full-time student tickets are $23. Tickets are available online or by calling (864) 770-1372.
Tim Tebow to speak at BJU
The Bruins Foundation will host "An Evening with Tim Tebow," presented by PlanFIRST, Inc., Thursday, March 15, at 7:30 in the Founder's Memorial Amphitorium.
Tebow, a two-time national champion, first round NFL draft pick, Heisman Trophy winner and current professional baseball player with the New York Mets organization, will share how his faith and testimony have impacted his career in sports.
BJU President Steve Pettit will speak briefly about the value of athletics at BJU and the impact BJU student-athletes are having on spreading the Gospel in Greenville and around the world.
"It's a privilege to host Tim Tebow at BJU," says BJU Athletic Director Dr. Neal Ring. "Throughout his life, Tebow has used the platform of sports to bring God glory—and that's what our intercollegiate athletics program is all about."
Tickets are available for $30 (reserved) and $20 (general admission). Student discounts are available. The Bruins Foundation will use proceeds to support BJU intercollegiate athletics. Get more information and register.
BJU to host annual Allen Jacobs Memorial Prayer Breakfast
Bob Jones University will host the second annual Allen Jacobs Memorial Prayer Breakfast Thursday, March 15, to honor the memory of Officer Allen Jacobs killed in the line of duty in 2016 and recognize law enforcement professionals across Greenville County.
"We are grateful for the dedicated men and women who protect and serve our communities every day," said BJU President Steve Pettit. "BJU is honored to pay tribute to Greenville's fallen officers and to show our appreciation for our local law enforcement."
During the breakfast, BJU will present the Allen Jacobs Award of Valor, Public Safety Employee of the Year, Award of Merit, and the Distinguished Achievement Award. Business and community leaders across the Upstate also attend and help sponsor the event.
Proceeds from the breakfast will benefit the Allen Jacobs Memorial Scholarship Fund, created at the request of the Jacobs family, to assist BJU students majoring in criminal justice. Since 2016, over $65,000 has been raised for the scholarship fund.
Graduates place in national film competition
Three Bob Jones University 2017 cinema production graduates recently placed in the Intercollegiate National Religious Broadcasters (iNRB) Student Production Awards Competition.
These awards are presented to undergraduate or graduate student members of iNRB for outstanding examples of radio, TV, and film productions. Entries are judged by media professionals in each field.
Luke Brubaker, of Coatesville, Pennsylvania, received first place in narrative film for Character Study, which tells the story of a college student who must decide if saving his grade is worth doing homework with a girl he thinks he is too good for.
Candace Burkett, of Greenville, Mississippi, received second place for her documentary, Shaped by God, about a man named Michael who grew up in communist East Germany. Throughout his life, Michael must overcome trials that continually test his faith in God.
Abby Cole, from Land O' Lakes, Florida, received third place for narrative film, Waking the Sleepers, describing an unknown disease that sweeps the world, causing people to become lifeless shells of themselves. The story follows a tenacious inventor determined to prove that the victims are worth saving.
"It's exciting to see our students being rewarded for their hard work and creative talent," says Sharyn Robertson, head of BJU's cinema department. "These films are a culmination of almost two years of work and we are very proud of what they have accomplished."
This year's competition marked the fifth year BJU senior cinema students have submitted capstone film projects to the iNRB competition, placing four out of the five years. BJU students will compete in the annual iNRB 24-Hour Film Challenge Feb. 27–28 in Nashville, Tennessee.
University receives gifts totaling $1.8 million
Bob Jones University President Steve Pettit recently announced the receipt of two large gifts totaling $1.8 million. These anonymous gifts were received from parents of graduates in appreciation for what their children received at BJU.
"2017 was a fantastic year for development at BJU," said Pettit. "2018 is shaping up to be an even better year. I'm so thankful for these individuals who have made these donations to help BJU continue to provide an affordable, regionally accredited Christian liberal arts education to more students across our nation and the world."
Funds will be used for student scholarships, as well as to help fund several strategic initiatives focused on the expansion of academic programs and the overall student experience at BJU.
BJU community served the Upstate on MLK Day
On MLK Service Day Jan. 15, 295 students, faculty and staff provided approximately 750 hours of volunteer service in the Greenville area. BJU coordinated with 11 different non-profit and government entities including Meals on Wheels, the Phillis Wheatley Center and five Miracle Hill facilities. Volunteers packed and delivered meals, cleaned, painted, raked leaves, organized donations and played basketball with youth in the county detention facility.